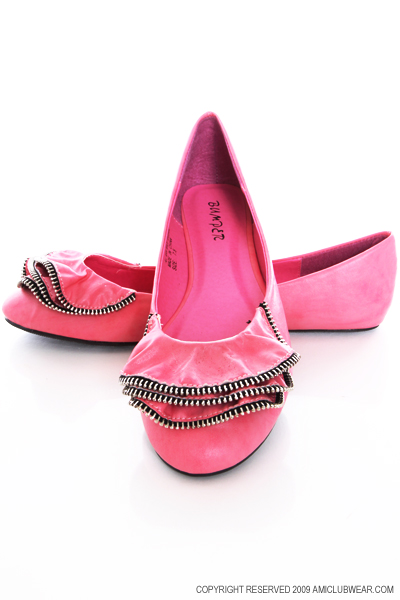 Flats are so hot! I never would thought I'd say this when it comes to those shoes. I was never a fan of flats until now. I was always into high heels because they are sexy and flashy, and they prettify any woman's legs by making them look longer and leaner. High heels will always be glamorous and have a place in any woman's shoe closet. But now I want to talk about how hot flats are! Maybe it started becoming really hot when a lot of people started wearing those ballet flats that were all the range past 10 years (and still are!). I spotted a lot of willowy girls wearing those ballet flats with leggings with scarves in New York back then (pre-2000). Now, they are extremely popular more than ever! All women must own a several pairs of flats because, not only that they're easy on your heels opposed to wearing high heels, they are even more fun because of more colors and styles to choose from. Many clothing stores, from high end to low end, carry many kinds of flats. Of course, most basic flats any woman should possess should have are the black ones, whether they're ballet style or not.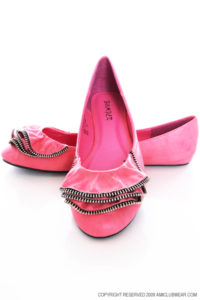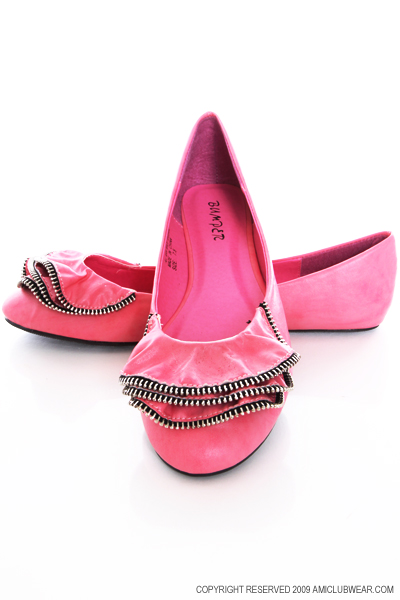 I bought those fuchsia (but in reality they look more of pink) zipper trim ruffle flats, and I loved them! I wore them with my jeans and pink top (I own several pink tops) so it was perfect. The ruffles were pretty big and had those cute zipper details that are really cool and unusual. I always liked buying shoes or clothes that had unexpected twists like in this case. Also, I got them at a good price so it doesn't cost me an arm or leg.
There are several examples of ultra cool flats that I've spotted online. I liked a couple of them but I know there are hundreds of flats that you can practically supplement your wardrobe. For me, I'd end up buying shoes in all colors of the rainbow such as yellow, green, blue and purple plus metallics such as silver, gold and bronze. They're a must and a bit of flash doesn't hurt. Speaking of colors, I spotted two pairs of flats that are totally cute! One pair is purple faux snakeskin and another pair is metallic gold. See them below.
They will go great with skinny or slim pairs of jeans (avoid boot cut jeans, they will overwhelm the flats), miniskirt or funky leggings! I think shoes should be a little wild because you can easily pair them with black or solid color clothing plus accessorize your outfit with scarves and jewelry. How hot would it be if a gal wore black leggings with off the shoulder tunic top plus a large scarf and then finish off the outfit by a pair of bright blue flats? Won't that be dazzling? I would think so! In the near future I will be posting pictures of myself in my favorite outfits including shoes and the like.
0