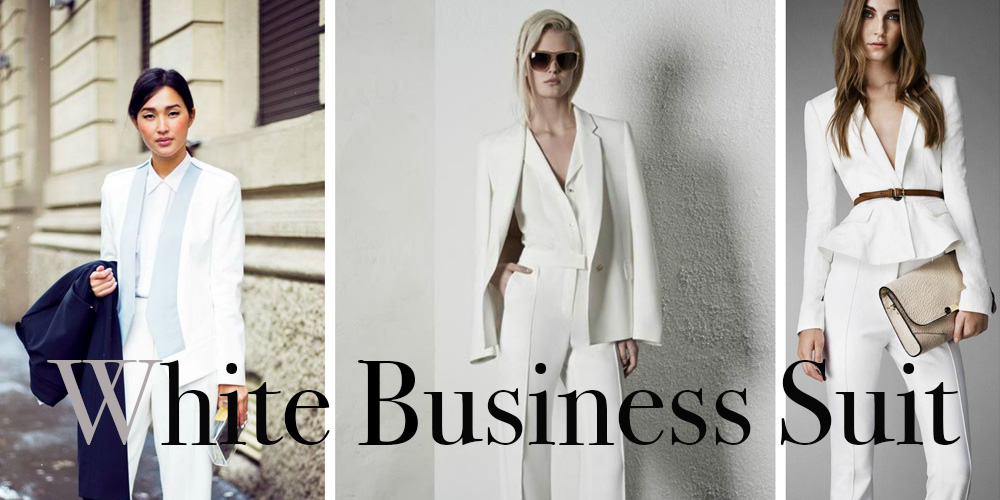 #BusinessSavvy in White…
How to Wear a White Business Suit in Corporate or Professional Setting
One way of standing out of the crowd is to wear WHITE. Yes, in contrary to what people think about color white (besides being associated with weddings), power white business suit can make a lasting impression in the business world, politics, entertainment and more. The white business suit looks elegant, crisp and fresh in any settings and command attention at right time and place while conducting a business meeting or networking with colleagues.
The business white suit comes in different styles, for example, the pantsuit or suit with a skirt. The white suit would make a great statement with a black blouse or, if you wish to take it up a notch, with a bright blue or pink blouse which also looks great with the white suit. Pairing the white business suit with either pumps, booties or flats would make a great combination. In fact, in the Metallic Flats post, any of those pairs would look great with a white suit.
In politics, even former Secretary of State Hillary Clinton wore white during the presidential election. She once again wore a white suit to Trump's inauguration, which she attended with her husband, former President Bill Clinton.
You can't go wrong with a white business suit. Here are some fashionable examples of power white suits in various styles and looks by celebrities and models.
Xoxo, Amy